2019 Workshop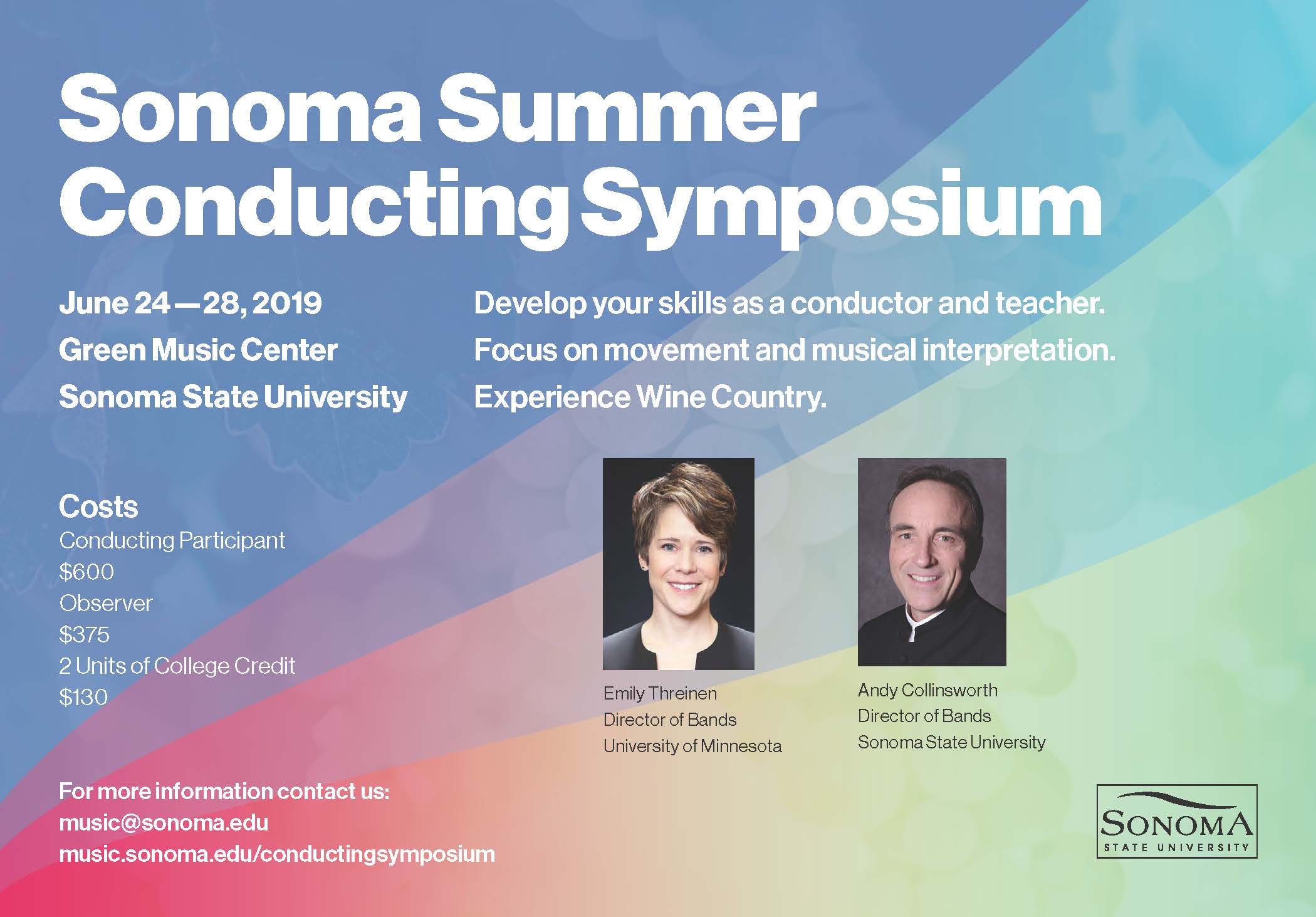 Monday, June 24 to Friday, June 28, 2019
Join us to further develop your skills at the Summer Wind Band Conducting Symposium. The Sonoma State University Department of Music announces the seventh annual Summer Wind Band Conducting Symposium Monday, June 24 to Friday, June 28 at the Green Music Center on the beautiful campus of Sonoma State University. 
Workshop Overview
All sessions will be held at the Green Music Center at Sonoma State University. The workshop focuses on the development of movement and gestural skills as a means for communicating musical interpretation.
Conducting participants will work with a live ensemble each day and receive feedback from master teachers. Additional activities include classroom sessions dealing with rehearsal techniques, score study, repertoire, ensemble motivation and personal growth.
Clinicians
Clinicians for the 2019 Symposium will be Dr. Andy Collinsworth, Director of Bands and Music Education at Sonoma State University, and Emily Threinen, Director of Bands at the University of Minnesota School of Music in Minneapolis-Saint Paul. 
Emily Threinen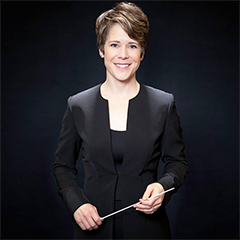 currently serves as Director of Bands at the University of Minnesota School of Music in Minneapolis-Saint Paul. In this position, she conducts the acclaimed Wind Ensemble, guides the graduate wind band conducting program, instructs undergraduate advanced conducting, and provides administrative leadership for all aspects of the University of Minnesota Bands. Prior to her appointment at Minnesota, Threinen served as Director of Bands and Artistic Director of Winds and Brass at Temple University's Boyer College of Music and Dance in Philadelphia, Pennsylvania.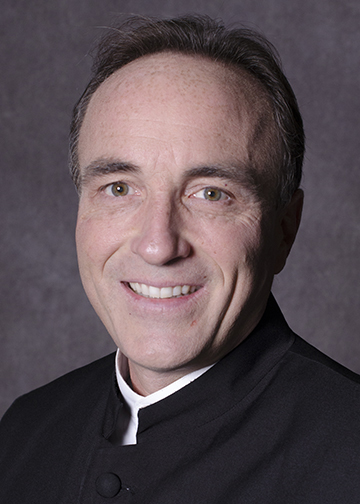 Andy Collinsworth has been the Director of Bands and Program Director for Music Education at Sonoma State University since 2008. In addition to leading the university Symphonic Wind Ensemble and Concert Band, he teaches courses in conducting, instrumental music methods and music education, and is the classical saxophone instructor at SSU. As Director of the Music Education program at SSU, he advises and guides students aspiring to become music educators and supervises student teachers in the single subject credential program in music.
Dr. Collinsworth maintains an active schedule as a guest conductor, adjudicator and clinician with bands throughout the western states. He is the founder and artistic director of the Sonoma Invitational Wind Band and Orchestra Festival; a signature event that draws ensembles from throughout California. Dr. Collinsworth received the Doctor of the Musical Arts degree in Conducting from Arizona State University (2008), and he holds degrees in Music Education (1987) and in Saxophone Performance (1989) from the University of Nevada—Reno.  
Enrollment Information
Conducting Participant
Conducting Participants will conduct a live wind ensemble, as well as attend all sessions. Participant status is designed for music educators currently working with high school and middle school ensembles. Registration for Conducting Participants is limited to 16.
Observer
Observers will attend all sessions but will not conduct the ensembles. Observer status is recommended for and open to musicians at all levels. Observer registration is not limited.
Cost
Conducting Participant  $600
Observer  $375
2 Units of College Credit  $130
Apply
Contact
2019 Repertoire List
Robert Sheldon | Fall River Overture Gr. 2.5 Barnhouse
Frank Ticheli | Simple Gifts: Four Shaker Songs Gr. 3 Manhattan Beach
Johannes Brahms/Buehlman | Blessed Are They Gr. 3 Ludwig
Jody Blackshaw | Terpsichorean Dances Gr. 3 Manhattan Beach
John Philip Sousa/Brion/Schissel | The Invincible Eagle Gr. 3 Willow Blossom
Frank Erickson | Air for Band Gr. 3 Bourne
Malcolm Arnold/Paynter | Prelude, Siciliano, and Rondo Gr. 4 Carl Fischer
Carolyn Bremer | Early Light Gr. 4 Carl Fischer
Eric Whitacre | October Gr. 4 Hal Leonard
Gordon Jacob | William Byrd Suite Gr. 5 Boosey
Housing
On campus housing is not available. Recommended hotels in the area are Oxford Suites and the Doubletree Hilton in Rohnert Park.