The Department of Music is located at the Donald and Maureen Green Music Center, a state-of-the-art performing arts complex that includes the 1400-seat Joan and Sanford I. Weill Hall, the 240-seat Schroeder Hall, Music Education Hall, and meeting and conference facilities. The department presents more than 75 concerts a year in Weill and Schroeder halls.  
Music Education Hall
The Department of Music is housed in Music Education Hall at the Green Music Center. 
This academic wing provides students and faculty with:
Schroeder Hall and the Brombaugh Opus 9 tracker orgen
Large rehearsal (2800 sq ft) room with adjustable acoustics
Small rehearsal room (1200 sq ft) designed for use by the jazz ensembles and other amplified music groups
Two general-purpose smart classrooms accommodating 60 students each
Seven sound–isolated teaching studio/practice rooms
One rehearsal/classroom (900 sq ft)
One piano laboratory equipped with 17 Clavinova keyboards (900 sq ft)
Seventeen studio/offices for faculty 
12 grand and five upright pianos
Two administrative office suites for the academic departments and Green Music Center
Music library
Instrument storage rooms
Dedicated keyboard storage (adjacent to concert hall)
Ives Hall
Until 2008, the Department of Music was housed in Ives Hall, a 50,000 sq ft structure completed in 1967. Ives Hall is the site of the Walford Recording Studio, which underwent a major remodel and upgrade in 2015. Ives also houses Warren Auditorium, a proscenium-style theatre with permanent seating for 200. The department maintains several music studios and 12 practice rooms in Ives to supplement those in the Green Music Center. 
Walford Recording Studio
Walford Recording Studio in Ives Hall Room 32 is available for use by students registered in a Recording Class and/or certified by the instructor.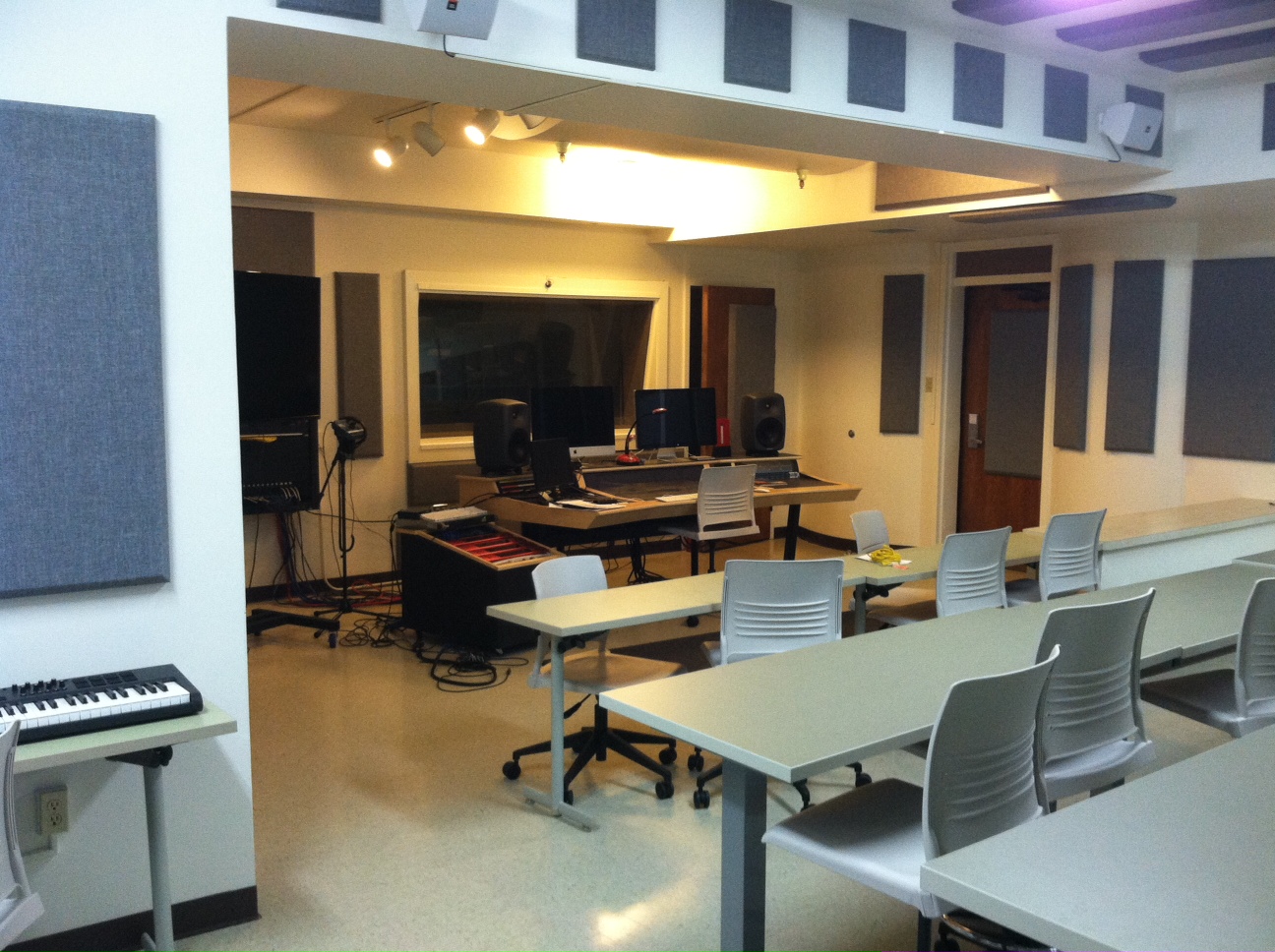 Gear:
Imac based Pro Tools 11 HD Digital audio workstation with
Avid Audio C 24 control surface
Sound Construction C|24 Wrap Console
Sound Construction Lowboy Racks
Protools Plug-ins:
Emerald Pack Native
Sonnox Elite Plug In Bundle-Special Promo
Waves Diamond Bundle Native
Microphone pre-amps and digital audio Network:
Focusrite 8 Ch. Mic Pre x3 in studio and x3 on GMC site & A/D For Rednet
Studio Monitors:
Genelec 8250A
Studio Microphones:
AKG 414 Matched Stereo Pair
AKG D112 Large Diaphram Dynamic Microphone
AKG C2000 Small Diaphram Condenser Microphone x2
Neumann TLM 103 Cardioid Stereo-Set
Neumann U87 Microphone W/Shock Mount
Neumann KM 184 Condenser Microphone Pair
EV RE20 Dynamic Microphone
Shure SM7 Cardioid Dynamic Studio Vocal Mic
Shure SM 81 Condenser Microphones x2
Shure SM57 Dynamic Instrument Microphone x4
Shure Beta 52A High Output Dynamic Microphone
Audix D2 Dynamic Instrument Michrophone
SE 2200A Condenser Microphone w/out Shock mount
Rode NT2 Condenser Microphone w/out Shock mount 
Studio Accessories:
K&M Tripod/Boom Combination
Aviom Six Mix Personal Mixing System
Sennheiser Circumaural Monitoring HiFi Headphones
(4) JBL Speakers
Kawai 500 Grand Piano