Brian S. Wilson, director
Concert Will Feature Eight Composers From New England
Monday, March 13, 2023
Schroeder Hall
Join us on March 13 at 7:30 p.m. for an evening of chamber music by New England composers in Schroeder Hall at the Green Music Center. Performers will include members of Sonoma Musica Viva, a collective of music faculty, free-lancers and qualified students from Sonoma State University. Composer and founding director Brian S. Wilson will curate and conduct the event. 
The Backstory
Located at the intersection of early American commerce and culture, New England has provided ideal conditions for music composition to flourish. Some of the most dynamic composers of the 20th century affiliated themselves with groups known as the Boston School and the Boston Six, while others, with true Yankee ingenuity, worked outside of the mainstream.
Amy Beach and Arthur Foote were affiliated with The Boston Six. Sometimes called The Second New England School, this aggregate is viewed as pivotal in the development of an American classical music that stands apart from its European ancestors. The composers of the Second New England School are considered the artistic ancestors of later "academic" and "conservative" U.S. composers such as Walter Piston, Howard Hanson, Douglas Moore and Carlisle Floyd.
Irving Fine and Harold Shapero were among the Boston School, a group of composers from Boston, Massachusetts who were influenced by the neoclassicism of Igor Stravinsky. Many from this group studied with the influential Parisian teacher Nadia Boulanger.  
The concert will also include works by Walter Piston; by the American maverick Carl Ruggles, considered a founder of the ultramodernist movement; and by Marilyn J. Ziffrin, a Chicago-born student of A. Tcherepnin who lived in New Hampshire and became the biographer of Ruggles.
The Music
Chamber works to be performed will include Harold Shapero's Sonata for Trumpet (Daniel Gianola-Norris, trumpet soloist); Irving Fine's Choruses from Alice In Wonderland ; Carl Ruggles' "Angels" for six trumpets (SSU Trumpet Studio led by Daniel Gianola-Norris); solo piano pieces from Amy Beach's "From Grandmother's Garden"; Piano Trio No. 2 by Arthur Foote and two works for mixed chamber ensemble, "The Season" by Brian S. Wilson and "Ten" by Marilyn J. Ziffrin.
For information, contact brian.wilson@sonoma.edu or call (707) 664-2324
List of composers
Carl Ruggles (1876-1971)
Amy Beach (Boston Six) (1867-1944)
Arthur Foote (Boston Six) (1853-1937)
Walter Piston (taught by the Boston Six) (1894-1976)
Irving Fine (Boston School) (1914-1962)
Harold Shapero (Boston School) (1920-2013)
Marilyn J. Ziffrin (1926-2018)
Brian S. Wilson (b. 1962)

About Sonoma Musica Viva
Sonoma Musica Viva was founded in 2010 at Sonoma State University as a chamber music alliance dedicated to the recognition of significant works from the 20th and 21st centuries. Founding director and conductor Brian S. Wilson combines the talents of university faculty and North Bay professionals alongside qualified student performers. Students by invitation only.
Sonoma Musica Viva's debut concert took place on October 10, 2010, with a program of Hungarian and Czech music written before 1940 that included Bartók's Contrasts for clarinet, violin and piano; Mikrokosmos for piano; and Janáček's Capriccio for piano left hand, flute, two trumpets, three trombones and tenor tuba. The ensemble has presented programs of Stravinsky and Ravel; an all-Messiaen program; and Music From the Second Viennese School and most recently a program devoted to the music of Charles E. Ives.
Mission Statement
Sonoma Musica Viva's goal is to increase awareness of significant, lesser-known works composed after 1900, specializing in the repertoire for mixed chamber ensembles. Sonoma Music Viva creates performances in an inviting and informal atmosphere without the stuffy trappings of traditional classical concerts.
For information contact Brian S. Wilson, music director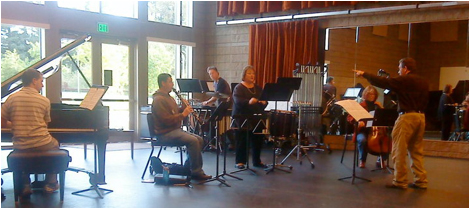 brian.wilson@sonoma.edu.
Past Programs
First SMV program - 2009
Messiaen - Oiseaux Exotiques for piano and chamber orchestra
Ravel Stravinsky - song cycles
October 17, 2010- Bartók and Janáček
Bartók - Contrasts; Suite Paysanne Hongroise; Mikrokosmos selections  
Janáček - Dumka; Říkadla - Nursery Rhymes; Cappricio 
November 9, 2011- Arizona Connection
Dan Asia - Piano Trio; B for J
Jesus Contreras - String Octet
Brian S. Wilson - Yizkor from Alchunun; Byron Songs (premiere)
April 6, 2013- The Second Viennese School
Schoenberg — Verklarte Nacht (Transfigured Night)
Webern — Three Little Pieces op. 11
Berg — Seven Early Songs
Schubert — Three Songs
Berg — Sonata, op. 1
Berg — Satz Aus Dem from 'Kammerkonzert'
October 24, 2013- SMV: Anderson & Roe; Saeunn Thorsteinsdottir
Stravinsky - Rite of Spring (two pianos)
Benjamin Britten - Cello Suite 3 
Witold Lutoslawski - Five Dance Preludes
Student composers
November 14, 2014- Agamemnon, an opera in one act
by Brian S. Wilson
October 15, 2015- Music from Eastern Europe
Lutoslawski - Mini Overture for Brass Quintet
Karel Husa - Divertimento for Brass Quintet
Brian S. Wilson, arr. - Klezmer Set for Brass
Jenni Brandon - Five Frogs
Ernesto Lecuona - La Comparsa
Gyorgy Ligeti - Six Bagatelles for Wind Quintet
Jim Parker - King Oliver Steps Out from Mississippi Five
Endre Szervanszky - Quintet 
Brian S. Wilson - Klezmer Overture (premiere)
November 20, 2016- Music by Gurdjieff/de Hartmann
Charles Ketcham, piano
February 6, 2018- The Music of Charles Ives
Trio for Violin, Cello and Piano, performed by the Navarro Trio
Selections from 114 Songs, SSU Select Choir, Jenny Bent, conductor
            At the River (1916) 
            The Children's Hour (1901) 
            Two Little Flowers (1921) 
            The Cage (1906)
            Songs My Mother Taught Me (1895 ) 
            Memories  (1897)
            Forward Into Light (1898) 
            Serenity (1919)
The Unanswered Question, performed by Daniel Gianola-Norris, trumpet, Kathleen Reynolds, flute, Laura Reynolds, oboe, Roy Zajac, clarinet and student String Quartet
Three Quarter Tone Pieces, Madison Kaminsky and Nicholas Maritz, pianos
From the Steeples and the Mountains, Daniel Gianola-Norris and Dave Len Scott, trumpet; Tony Collins, trombone; Thom Limbert and Anthony Gonzales, chimes
Variations on "America,"Paul Blanchard, organ
March 1, 2019 - Edgard Varese and friends, including music by Frank Zappa
Varese - Octandre | Poem Electronique (tape)| Density 21.5 (solo flute) Ionisation 
Frank Zappa - Bebop Tango
Heitor Villa Lobos- The Three Marias (piano)                                                              
Solo works  for Theremin
March 8, 2020 - William Walton and Paul Hindemith - Façade & The Viola Connection
Walton
Prelude and Fugue from Spitfire (brass)
5 Bagatelles (guitar)
Viola Concerto
Façade and Entertainments (narrator and ensemble) 
Hindemith
Rondo for 3 guitars
Quartet for clarinet, violin, cello and piano
Sonata for Four Horns
Exercises from Elementary Training for Musicians (percussion)
March 11, 2022- A concert celebrating the music of Les Six
Les Six, (French: "The Six") was a group of early 20th-century French composers whose music represents a strong reaction against the heavy German Romanticism of Richard Wagner and Richard Strauss, as well as against the chromaticism and lush orchestration of Claude Debussy. Member of Les Six are
Georges Auric (1899–1983)
Louis Durey (1888–1979)
Arthur Honegger (1892–1955)
Darius Milhaud (1892–1974)
Francis Poulenc (1899–1963)
Germaine Tailleferre (1892–1983)
Works to include movements from the Milhaud's Saudades do Brasil, Op. 67 for piano, Tailleferre pieces for 3 trumpets, Honegger's Danse Le Chèvre for flute and more.